10 Nov

Post – 10th November 2019

Post – 10th November 2019

MESSAGE TO ABC AUSTRALIA EMPLOYEES

Australia needs heroes.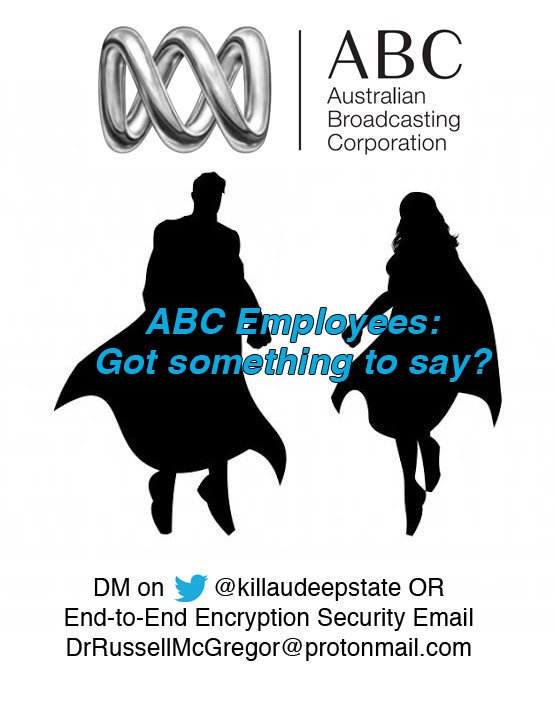 Soon historic tumultuous political changes will take place.
The defeat of Globalism is inevitable.
Geopolitical events will see the removal of the Deep State worldwide.
It is certain.
This transition will be difficult and to be sure we need your help to make this process easier for all.
Very bad people in the Deep State will be held to account.
They have knowingly hurt us.
As you are aware the ABC is the propaganda arm of the Deep State in Australia.
The damage caused to society by the ABC agenda and censorship is well known.
In particular the covering up of elite paedophilia networks and child sex trafficking is significant.
Some of you are a part of this network.
Similarly the cheerleading for never-ending Deep State war has lead to misery and bloodshed worldwide.
There will be a reckoning.
Q Post 1574:
Your controllers have used fear and hate to divide us.
We understand many of you have been purged.
The ABC culture does not accept freedom of thought, opinion and ideas.
Sadly, there has been an abrogation of real journalism by the ABC.
However you have been bypassed.
The QAnon US Military Intelligence dissemination has been profound.
Q researchers know what has occurred.
We know you have knowingly silenced an abundance of crimes against humanity.
Please use this opportunity to make a change.
No doubt early on many of you yearned to be able to practice investigative journalism and make a difference.
We ask that you return to those morals and transparently inform the public of how the ABC really functions.
Please do yourself a favour and be a whistleblower.
Regain your integrity.
Be the hero you once wanted to be.
How can you contact me?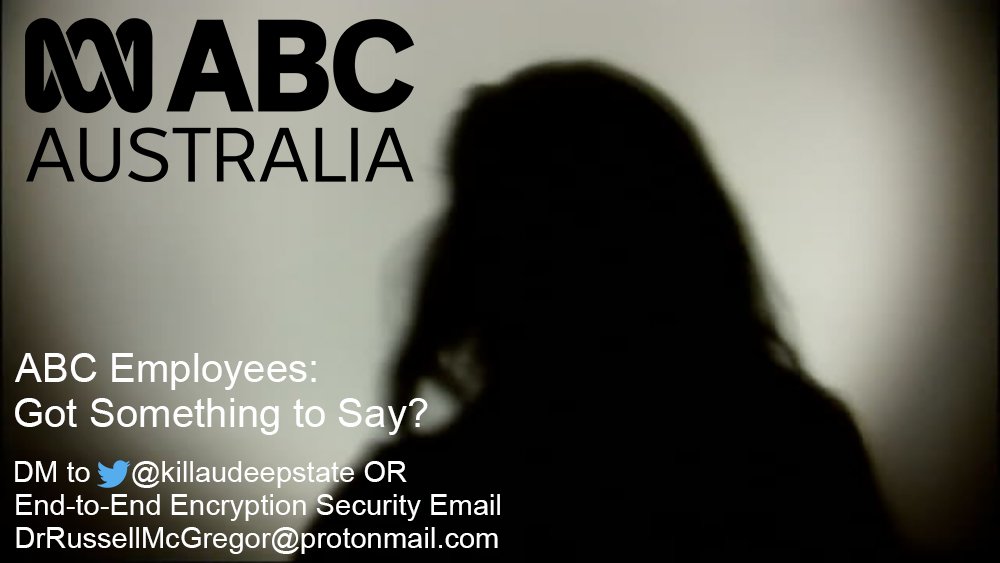 If you have a story to tell then simply send me an email.
We can proceed from there.
As such, I have set up a dedicated protonmail account –
DrRussellMcGregor@protonmail.com
If you create a protonmail account then mathematically certain end-to-end encryption occurs for all communications.
Do not open an account at work.
Ideally attend a local library or internet cafe and use an anonymous guest pass.
Confidentiality is assured.
I will be the ONLY person to read your emails.
Do not send an exe or zip file. Do not send any links. I will not open them.
Best practice is to type directly into the email and send.
Important to note is that any literary fingerprint/signature should be avoided. Change your style or request that I rewrite your information for you.
If confidentiality is not an issue then you may DM my twitter account –
@killaudeepstate
If the whistleblowing intel is significant then I may need to verify your ID to know you are a real insider.
Dissemination of intel will be made through our QAnon research network.
Dark to Light.
Make Australia Great Again,
Dr Russell McGregor
@killaudeepstate
WWG1WGA