07 Oct

Post – 7th October 2019 – B

Post – 7th October 2019 – B

THE MARINES HAVE BEEN ACTIVATED – ARE ARRESTS IMMINENT?

Directive 500/19 has been instituted by The President on 3rd October 2019. It will become active on 19th October 2019:

https://www.marines.mil/News/Messages/Messages-Display/Article/1979422/manpower-guidance-for-activation-and-deactivation-of-reserve-component-rc-marin

Essentially we do not know whether this is significant. It involves 240,000 Marines being placed on-call.

As we all know, Q has stated that the Marines serve exclusively at the behest of The President. This is legal fact.

Therefore if there is a coup plot against The President then the Marines would be mobilised. No question.

If there was a mass arrest or high profile arrest scenario would it make sense to have the Marines insulate the White House? No question.

Q post 955: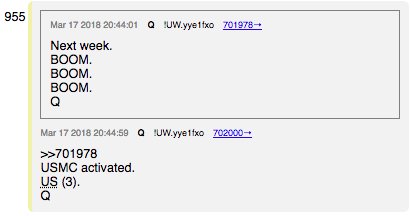 USMC activated = United States Marine Corps.
Neonrevolt and @stormisuponus have each highlighted the activation as have Alex Jones and GRU.
There is a purpose to it.
Two scenario's are at play:
1) That the activation is a Psyop/Deep state lure to cause [PANIC] and mistakes.
2) Arrests may be approaching or unrest could be possible with the upcoming Horowitz/Barr/Durham/Huber releases.
Either way the risk of violence is minimal.
The Deep State does not have the capacity to cause an uprising. Zero.
Interestingly John Brennan was interviewed on CNN the other day.
When asked about his upcoming interrogation by Barr/Durham he said, "I am concerned".
He should be.
Enjoy The Show.
Make Australia Great Again,
Dr Russell McGregor
@killaudeepstate
WWG1WGA