25 Sep

Post – 25th September 2019 – D

Post – 25th September 2019 – D

UPDATE ON PAUL

Recently on 25th August 2019 I posted four blogs relating to Paul Keating.

The next day, August 26th 2019, I compiled a more complete thread on my twitter account with more integrated information.

Hence I will repost the entire thread here:

AUSTRALIAN POLITICS

1) The following talking points are intentionally separate and therefore should not be construed as being connected.
There is certainly no suggestion of impropriety by anyone mentioned.
It may get lengthy but please bear with me.
2) 16 lactating pigs can completely consume one 70kg human in one meal.
Small children require as little as a few sows.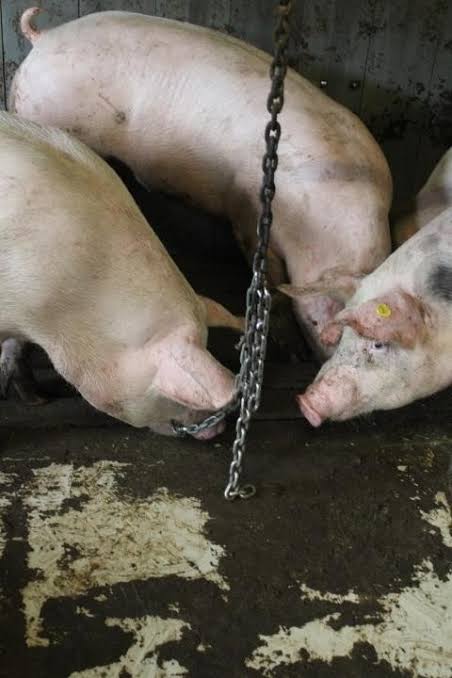 3) Keating is a bloodline name according to Fritz Springmeier.
4) Paul Keating (former Australian Prime Minister) has dyslexia and left school at 14 years old.
He has not attained any academic qualifications at all.
5) Paul Keating joined the Labor (Socialist) Party in Bankstown, New South Wales, at the age of 16 years old.
6) Paul Keating has always portrayed himself as the "Battler from Bankstown ".
Bankstown is a working class suburb in Western Sydney.
7) Paul Keating has subsequently become a multi-millionaire and now lives in the wealthy Eastern Suburbs of Sydney.
He has always enjoyed showing off his wealth, the acquisition of which, has been mysterious and controversial.
8) Paul Keating became Treasurer and then Prime Minister of Australia.
He was famous for hurling spiteful insults in Parliament.
The Press would applaud and wax lyrical with regard to these insults.
9) Paul Keating oversaw many Deep State policies including deregulation of the banking system, mass immigration against the wishes of the people, enforcement of Identity Politics Legislation/Politically Correct dictates and the decimation of the farming sector.
10) Paul Keating often boasted that he had the closest personal ties with the Reserve Bank of Australia (analogous to the US Federal Reserve) than any other Politician in history.
11) Paul Keating gave us, in his own words, "the recession we had to have ".
12) Paul Keating is widely accepted as being the most narcissistic Politician in Australian history, even by Labor Party apparatchiks.
He was vindictive and smug.
Paul refused to wear Australian suits as he considered them beneath him.
13) Paul Keating exclusively only wore the most expensive Italian suits.
He was grandiose/arrogant and would always have a large admiring entourage in tow.
14) Paul Keating did not acquire even the most basic school education.
He would therefore regurgitate whatever his Deep State brethren in the Canberra Public Service required; particularly on economic matters.
He was lauded by the Canberra Press Gallery as a genius.
15) Fiona Barnett, an RSA victim, has repeatedly alleged that she saw Paul Keating rape and murder a 5yo boy at Kurnell Beach in Sydney.
Fiona also alleges that Paul had difficulty disposing of the body.
I would certainly not suggest that any of these allegations are true.
16) "New Idea", an Australian Magazine in the 80's, published an article alleging Paul Keating visited Thailand to see boys.
No inference of wrongdoing was suggested or should be.
17) Paul Keating was worshipped as a God by Australian elites and the MSM because Paul hated the "unsophisticated" Australian culture – which was best removed.
18) Paul Keating is a closet homosexual.
This has always been an open secret amongst the Canberra Press Gallery. In the 80's, Keating would not have been electable at all, if his sexuality was known by the public.
19) The MSM enforced silence on Paul Keating's homosexuality and instead portrayed him as being very "macho".
He was a compromised Politician who would have been humiliated and cast out by the Catholics in the Labor Party if his homosexuality was exposed.
20) Bob Hawke was the PM before Paul Keating. Fiona Barnett named Bob as one of her childhood rapists.
Some think he was Satanically sacrificed 2 days prior to the Federal election to elicit sympathy for Labor.
There is no evidence this is true.
Labor lost.
21) 28 Politicians/Judges were named as paedophiles by Senator Heffernan under Parliamentary privilege in 2010.
He claimed that

was run by an entwined elite paedophile network.
The MSM banned identification.
No insinuations or wrongdoing intended.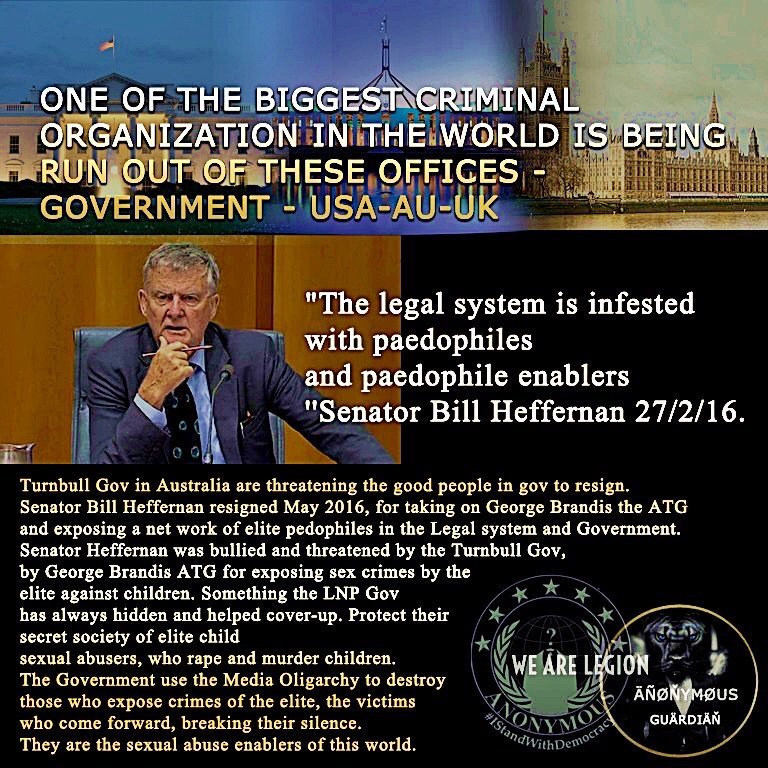 22) A secretive Pact known as "The Kirribilli Agreement" was made between Hawke and Keating in the presence of a wealthy industrialist, Sir Peter Abeles.
This agreement was a Deep State handling of a PM succession plan made without the knowledge of the

people.
23) Paul Keating attempted to anonymously force through a homosexual marriage bill in the 80's.
Insider Labor Party Politicians called him "Captain Wacky" for this failed attempt.
It would have been Political suicide for Labor.
24) In 1998, Paul Keating announced at the table during a dinner party, attended by his wife and many guests, that he was leaving her to be with his boyfriend.
25) Paul Keating has lived with his boyfriend in an expensive terrace mansion at Potts Point (gay area of Sydney) for the past 20 years.
This information has been banned by the

MSM.
A cover story was fashioned that he had a girlfriend in the area, until she eventually denied it.
26) Paul Keating has openly and brazenly worn red shoes in public.
I wonder what this symbolism was telegraphing?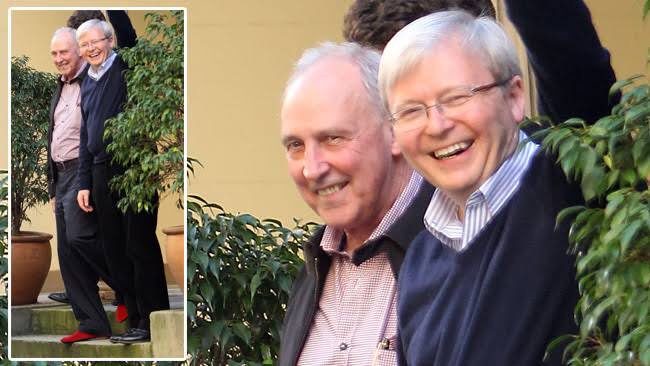 27) in the 80's Keating bought an industrial sized Piggery at Scone in the rural upper Hunter Valley of NSW.
He did this despite harbouring a well known animosity toward farmers.
He was ridiculed as this represented the antithesis of his opulent inner city lifestyle and persona.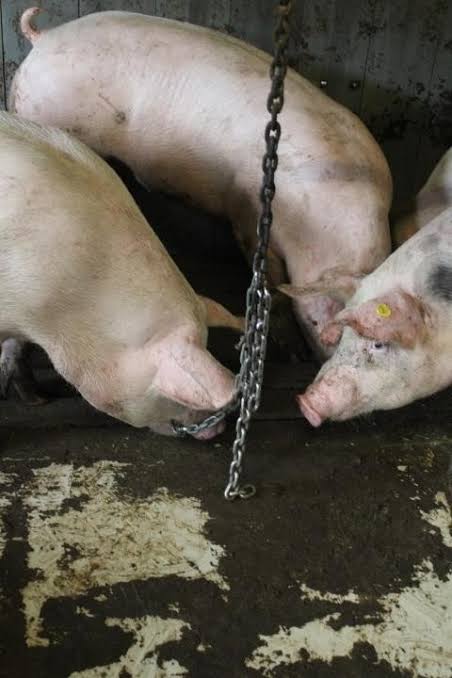 28) Interestingly #JohnPodesta spent two years whilst at #GeorgetownUni studying #Law slaughtering pigs at 'The Claude Moore Colonial Farm' situated 5 minutes walk from the #CIA Headquarters at Langley.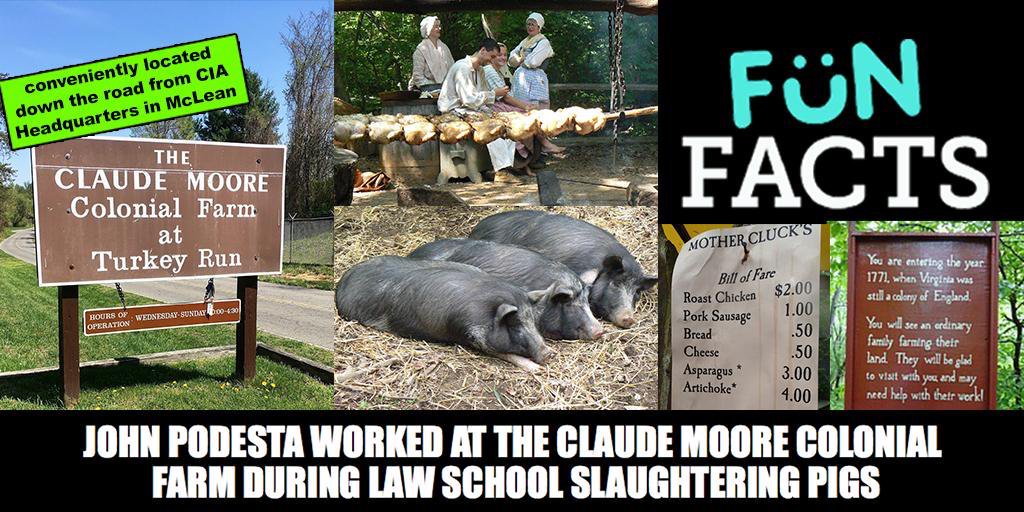 29) #KenStarr (Deep State fixer extraordinaire) was on the Board of CMCL.
He wrote a letter supporting leniency for a paedophile who worked on the Board – a Mr Kloman. #JohnPodesta gives details below regarding the way he killed the pigs.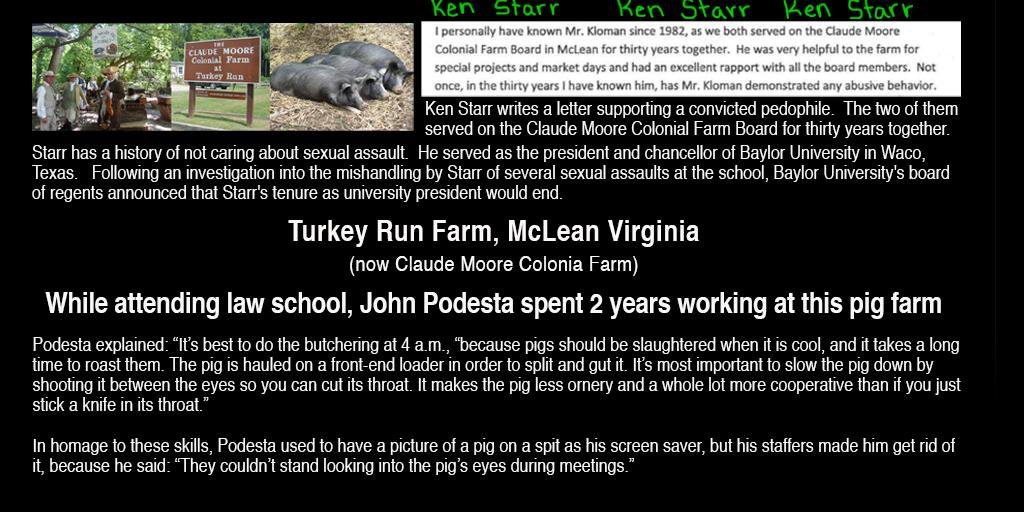 30) There are many Deep State connections with regard to happenings at CMCF.
A brief connect the dots is below: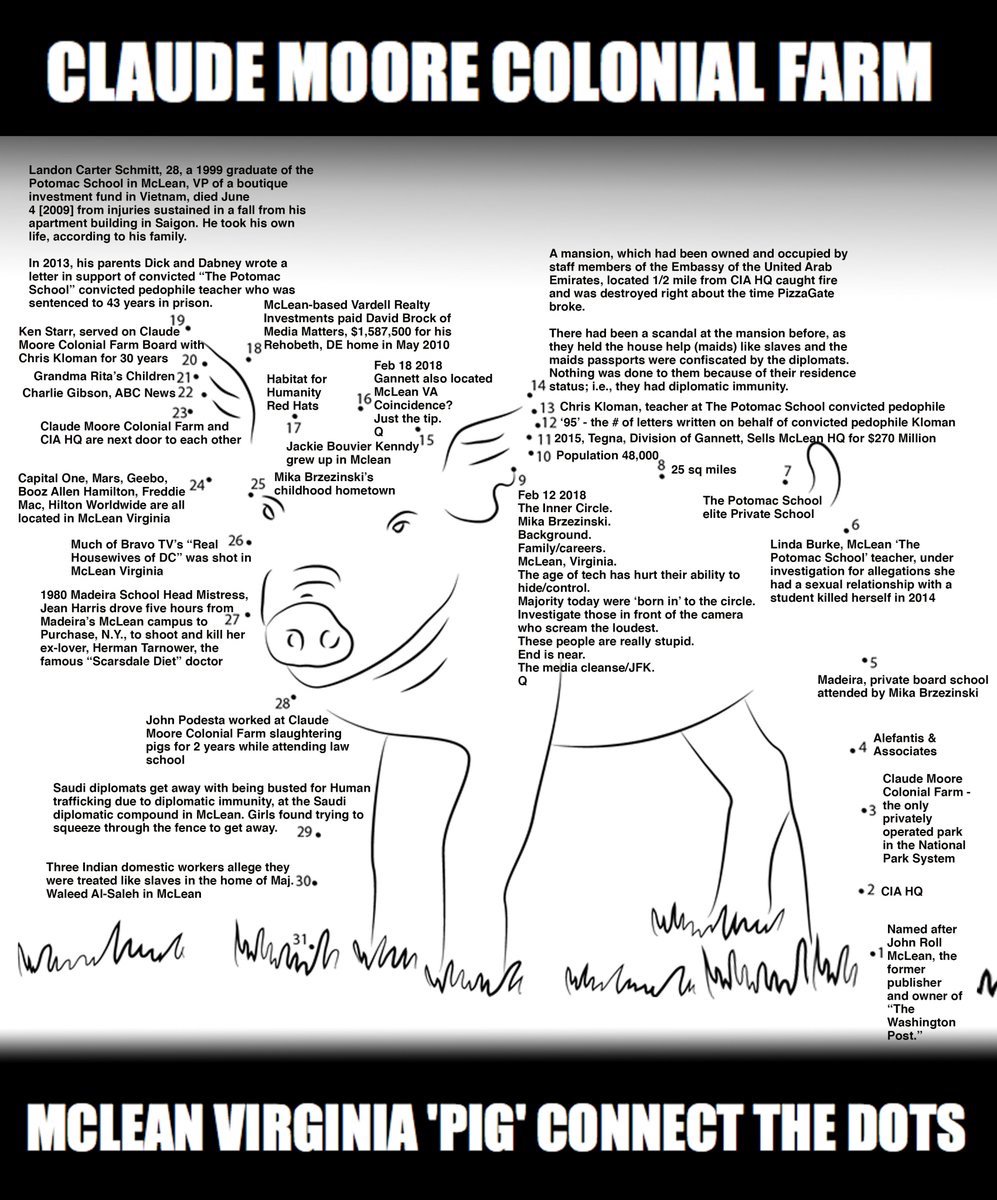 31) Insiders at the CIA refer to the CIA organisation as "The Farm".
The CMCF is a "museum" where farm animals are tended to in traditional ways of a hundred years ago.
So how did #JohnPodesta attain such a job and why did he bother doing it?
Were clowns involved?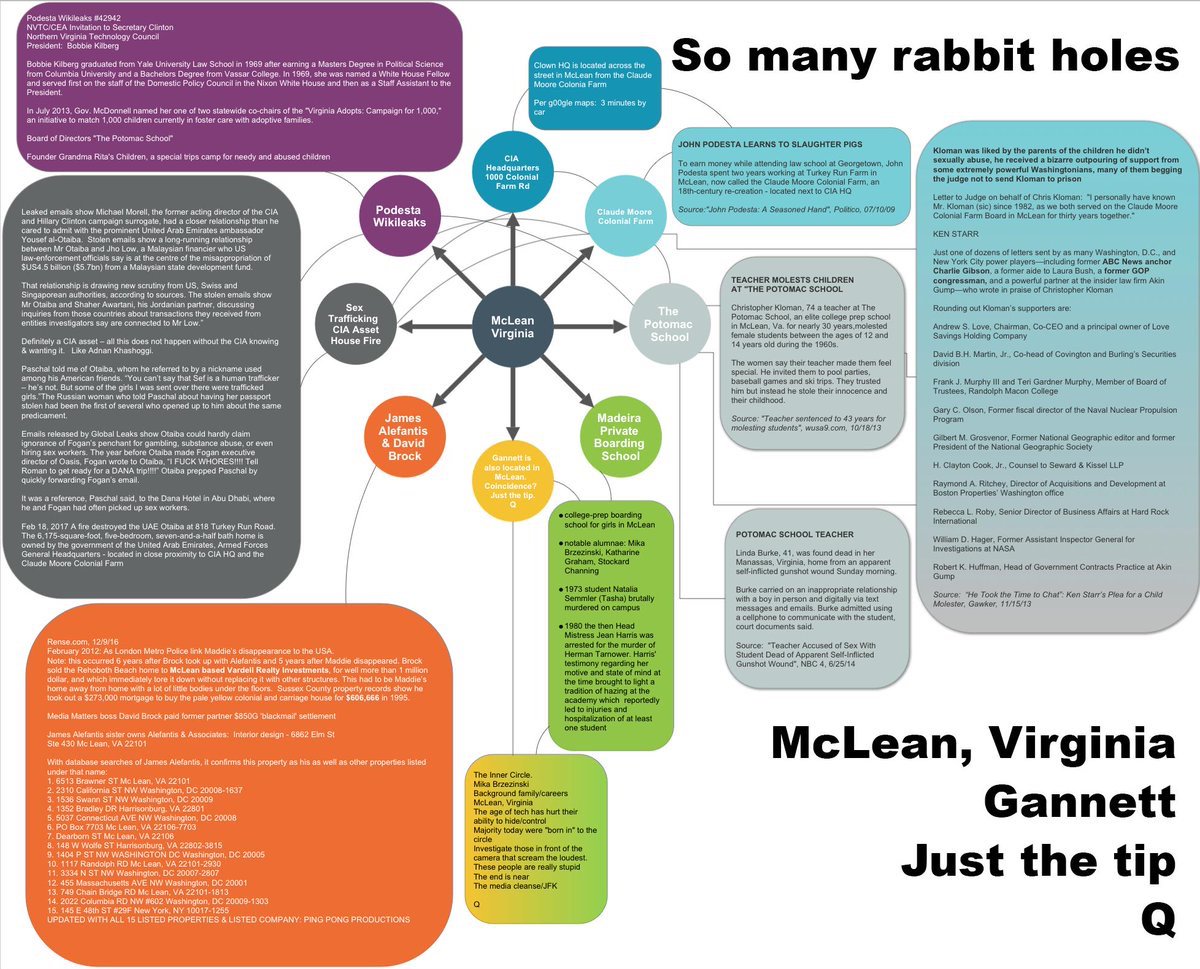 32) #KenStarr represented #Epstein and hates @realDonaldTrump.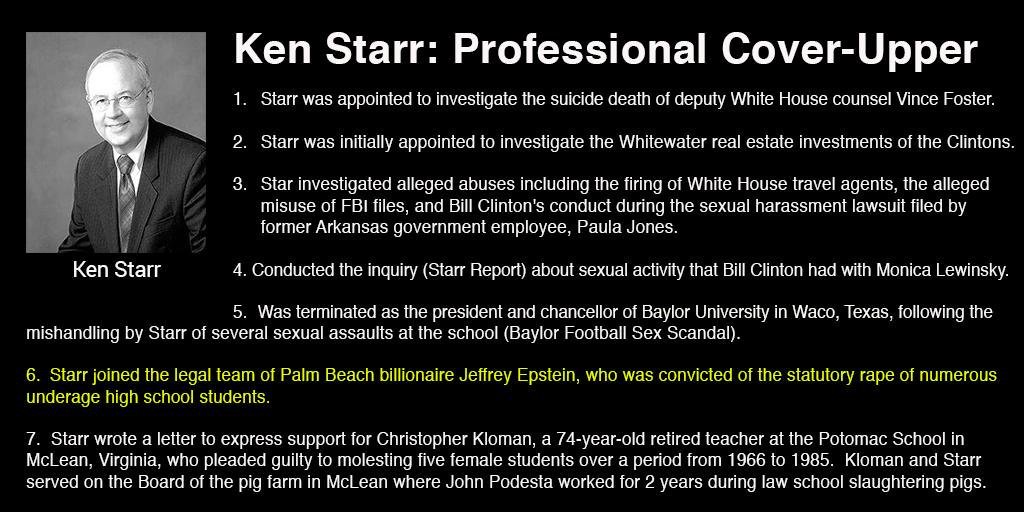 33) So why was a pig farm built in 1973 right next to the CIA in an exclusive/expensive area of Virginia?
Why did it employ elite recruited students to tend to pigs?
Go figure.
34) Oddly #JamesAlefantis of #CometPingPong fame also has a pig farm.

It's in Emmitsburg, Maryland and is called Whitmore Farm.
He also has a restaurant there too.
Ping Pong – Pig Farm – Restaurant.
35) A fun fact is that "The Claude Moore Colonial Farm" suddenly closed down in after @realDonaldTrump was elected.
Seems like their business model no longer was tenable.
36) #JeffreyEpstein also had a pig farm

at his New Mexico "Zorro" Ranch.
It was located on the East side of the private airstrip.
You had to drive by the double gates and the pig farm next to the airstrip to get to the fancy Casa.
Why would the big E need a pig farm?
37) Katherine Keating is the eldest daughter of Paul Keating.
She ingratiated herself into elite Sydney society at a young age.
Her well known nickname was "hubcap" because she would attach herself to the wealthiest biggest wheels.
She espoused a left wing ideology.
38) Katherine Keating's boyfriend was Andre Balasz.
He owned The Standard Hotel, which was the "Epstein Island" of Los Angeles.

Katherine- right
Andre- centre
Alexandra (sister) – left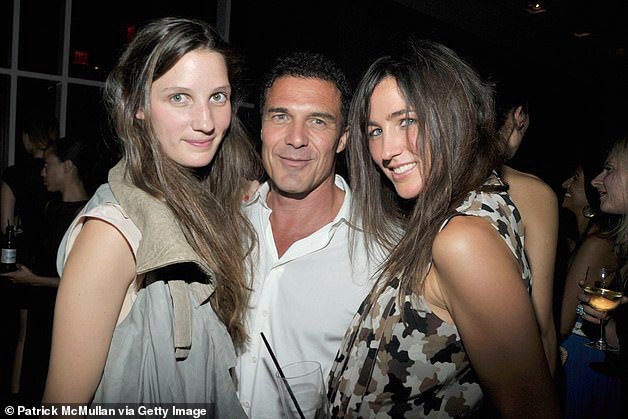 39) Andre Balasz was best friends with Jeffrey Epstein.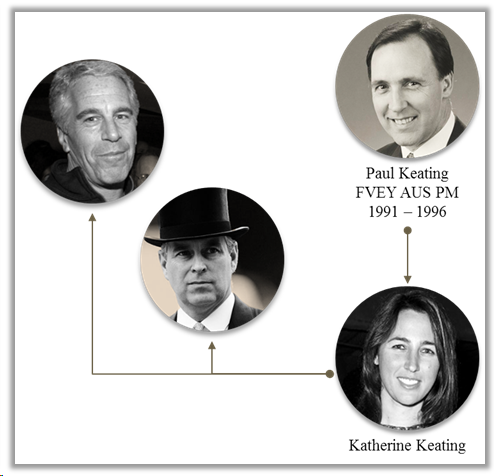 40) Andre Balasz was great mates with Ghislaine Maxwell.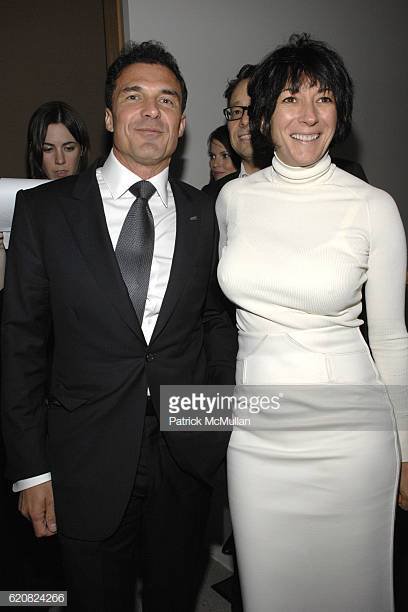 41) Katherine Keating was seen with Prince Andrew.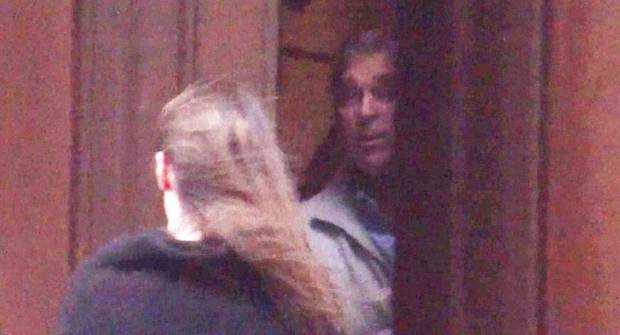 42) Randy Andy is best mates with Epstein.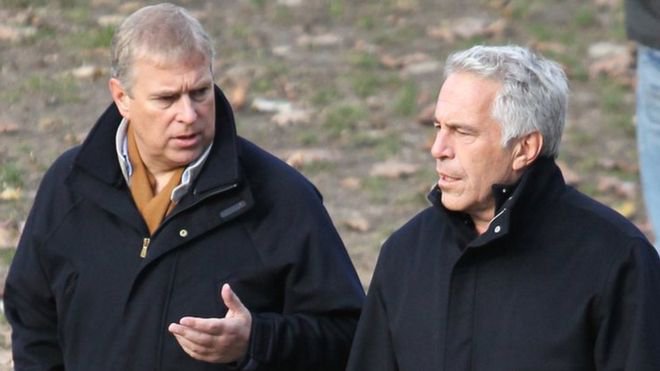 43) Ghislaine Maxwell and Katherine Keating are associated.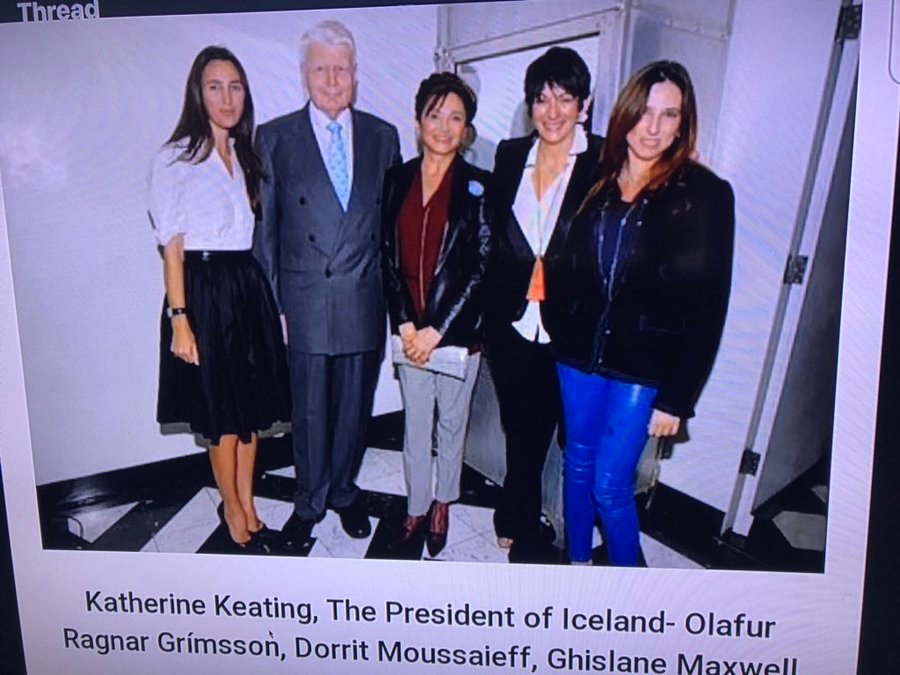 44) Paul Keating and Bill Clinton were great chums.
Bill knew Epstein and was on the Epstein Island manifest 27 times.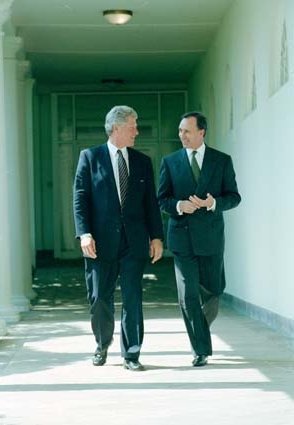 45) Amanda Anka made multiple accusations of groping by Andre Balasz.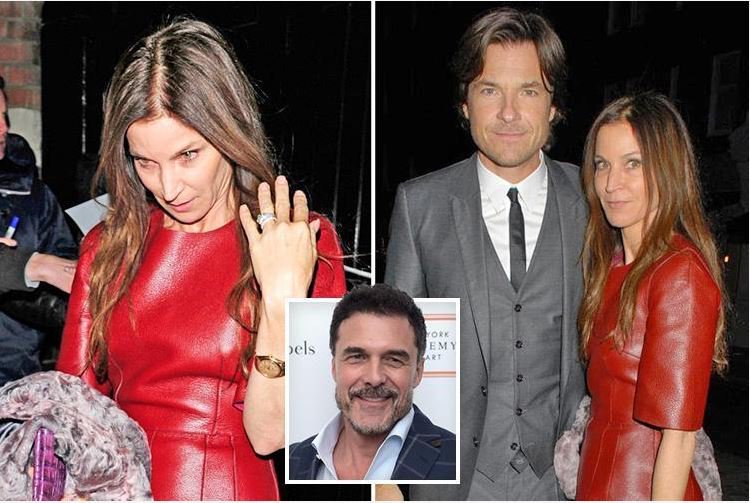 46) Andre Balasz and the Satanist Spirit Cooker, Maria Abramovic were very close and attended meals together.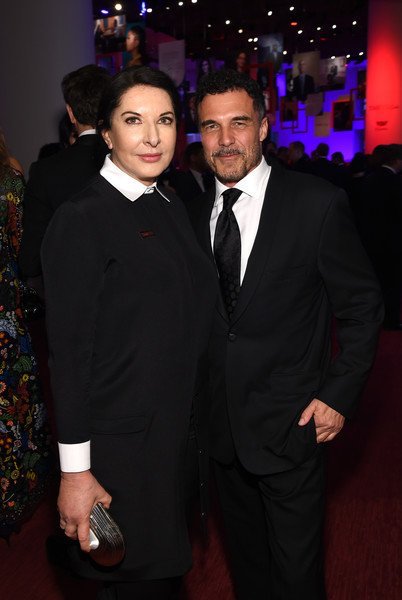 47) Here you can see Andre Balasz posing with the Deep State progressive #SusanSarandon, ready for of all things – ping pong!
Obviously this should not be confused with the MSM "debunked" Comet Ping Pong of #Pizzagate.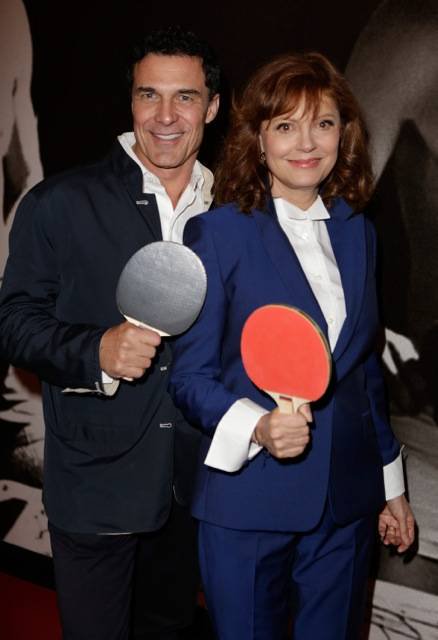 48) Here is a tasteful photo of The Standard Hotel and their kiddies Ping Pong table.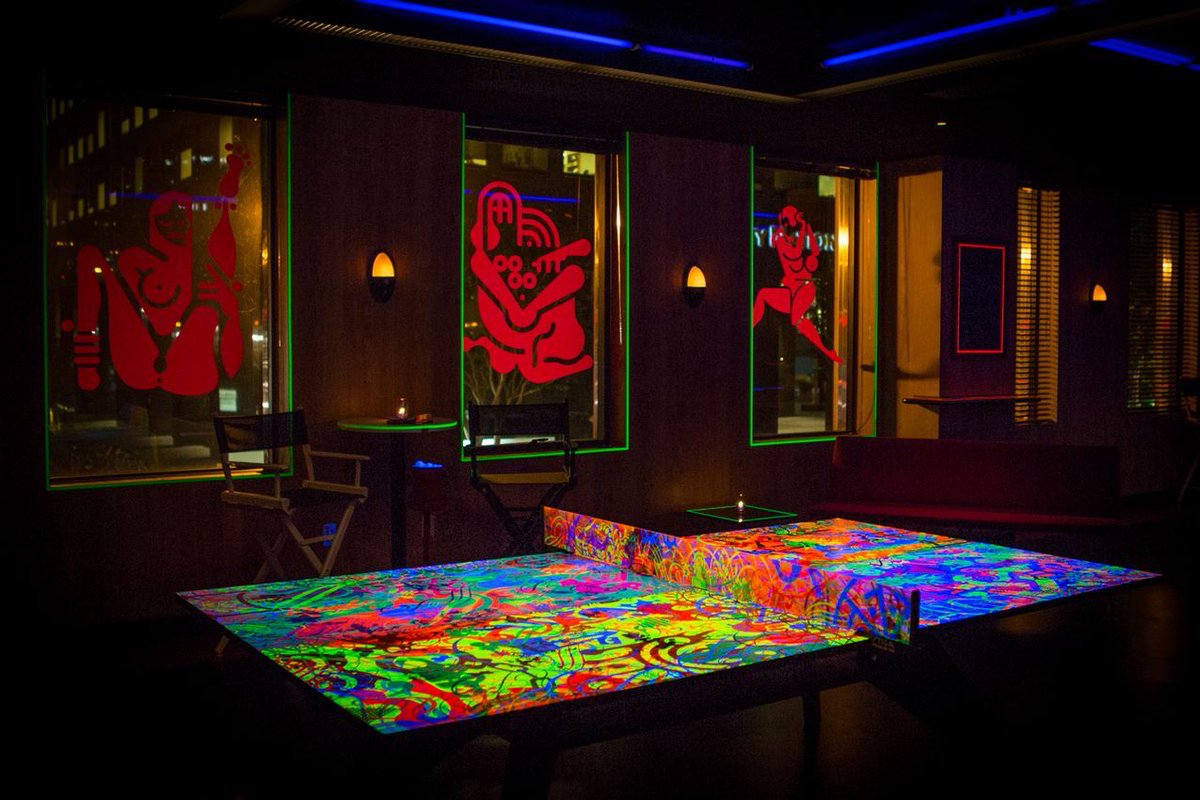 49) Notice the lighting enjoyed by #JohnPodesta.
Weird. #Smocking.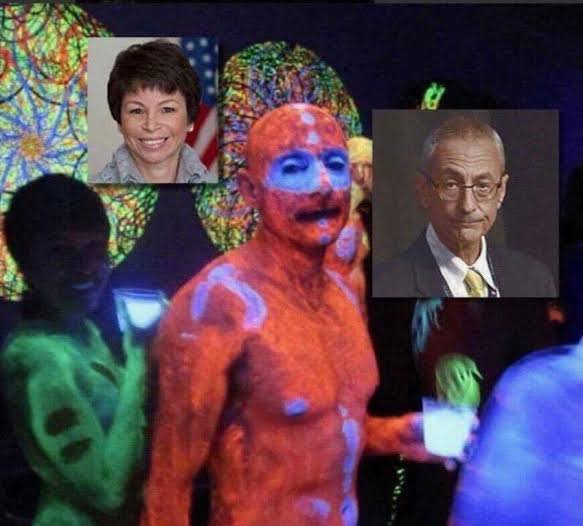 50) Adam Schiff enjoyed his company at The Standard Hotel.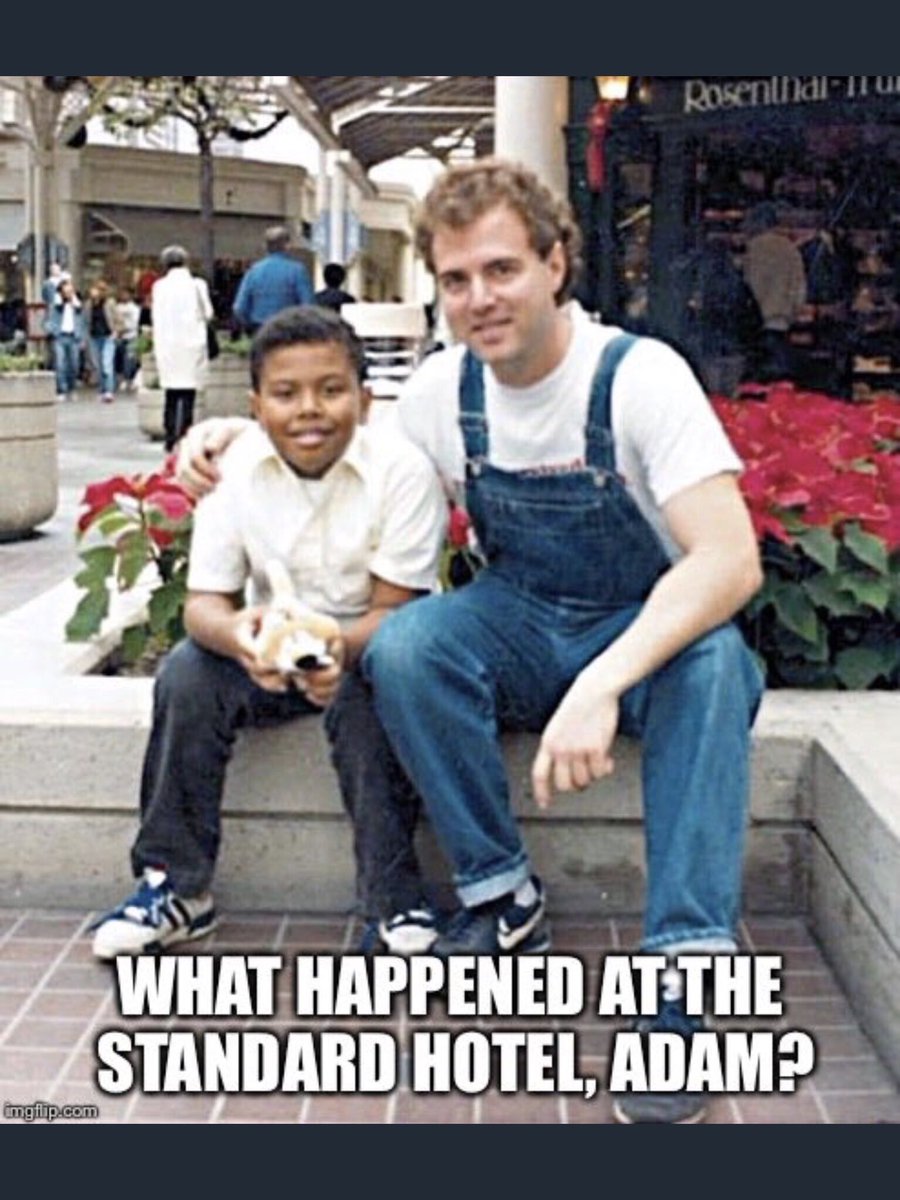 51) Andre Balasz was first married to Katie Ford. Katie is the daughter of the Ford Modelling Agency founder, Eileen Ford.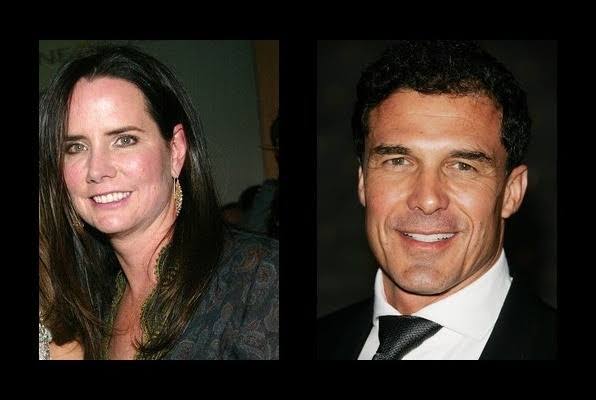 52) Katie Ford is Tom Ford's sister. Andre Balasz and Tom Ford are very very close.

Tom – middle
Andre- right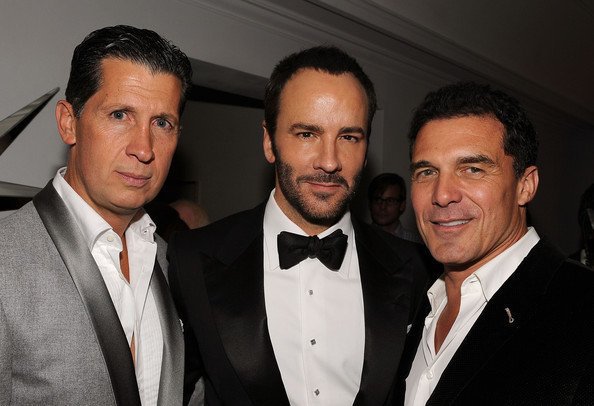 53) Tom Ford owns the ranch next to Epstein in New Mexico.
There are no other dwellings for miles. Tom named the ranch, Cerro Pelion Ranch, which coincidentally is the name of the largest Monarch Butterfly enclosure in the world.
Monarch is MKULTRA.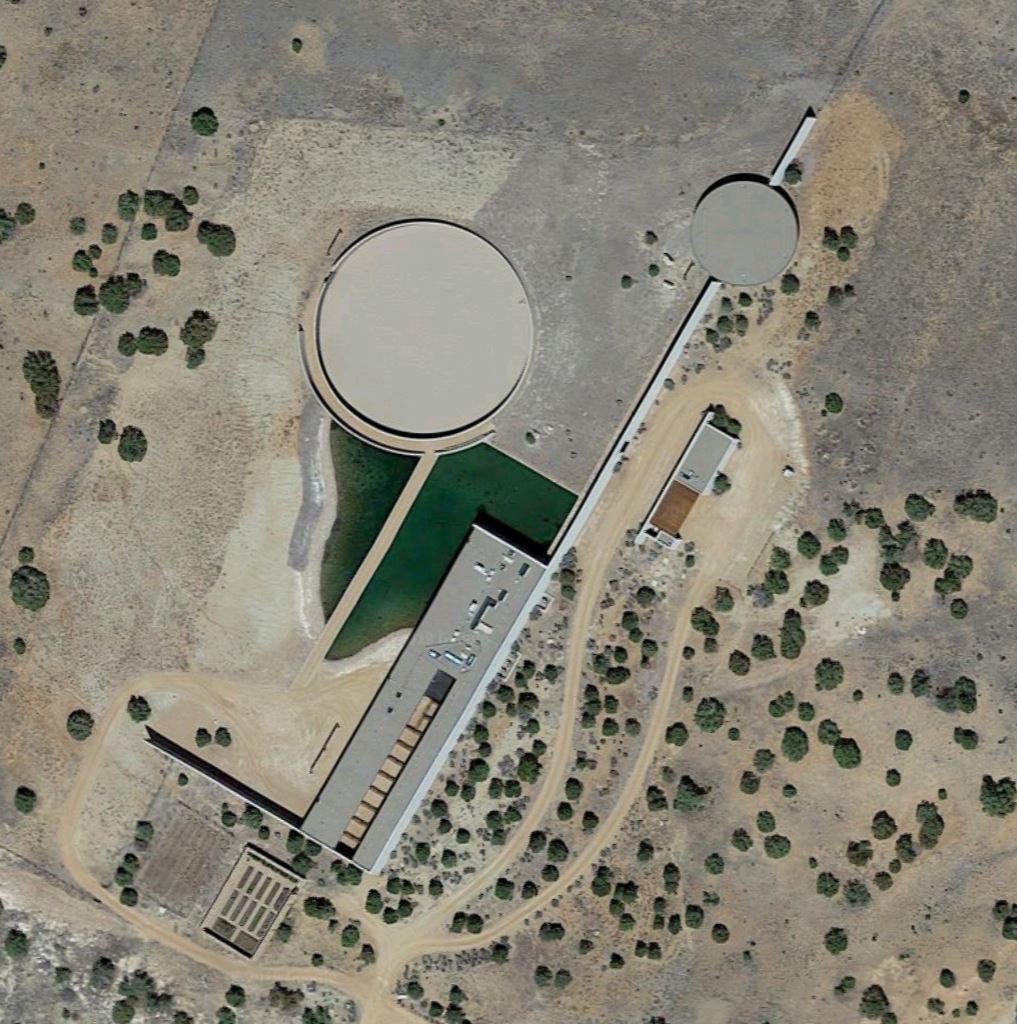 54) Katie Ford has access to an unlimited supply of girls/boys via her modelling agency.
Andre Balasz has full access to The Standard Hotel as well as elite Deep State Political/Hollywood contacts.
55) Katherine Keating has known contacts with multiple Child Handlers including Chelsea Handler and Ghislaine Maxwell.
No inference or wrongdoing is insinuated.
57) The CIA has a history of running child sex trafficking.
58) Katherine Keating studied Politics at University.
Whilst a Politics Major is a well known source of ASIO/CIA recruits there is certainly no evidence that any links exist with Katherine Keating.
None is suggested.
59) Katherine Keating worked for the NSW Premier, Bob Carr.
At that time the NSW Labor Right Wing faction was infested with paedophiles.
One Labor Politician, Milton Orkopoulos, was gaoled for sex with a young boy.
There is no suggestion that Carr was involved.
60) Franca Arena was a NSW Politician.
She was a multicultural hero of the Press until she named multiple paedophiles in Parliament under privilege.
She was driven out of politics with extreme prejudice by the Labor Party and the MSM despite overwhelming public popularity.
61) Franca Arena always alleged that the NSW Government deliberately changed the terms of reference in order to neuter the 'Wood Royal Commission' investigation into paedophilia.
InJustice Wood was a Deep State plant who ran a coverup operation instead of an investigation.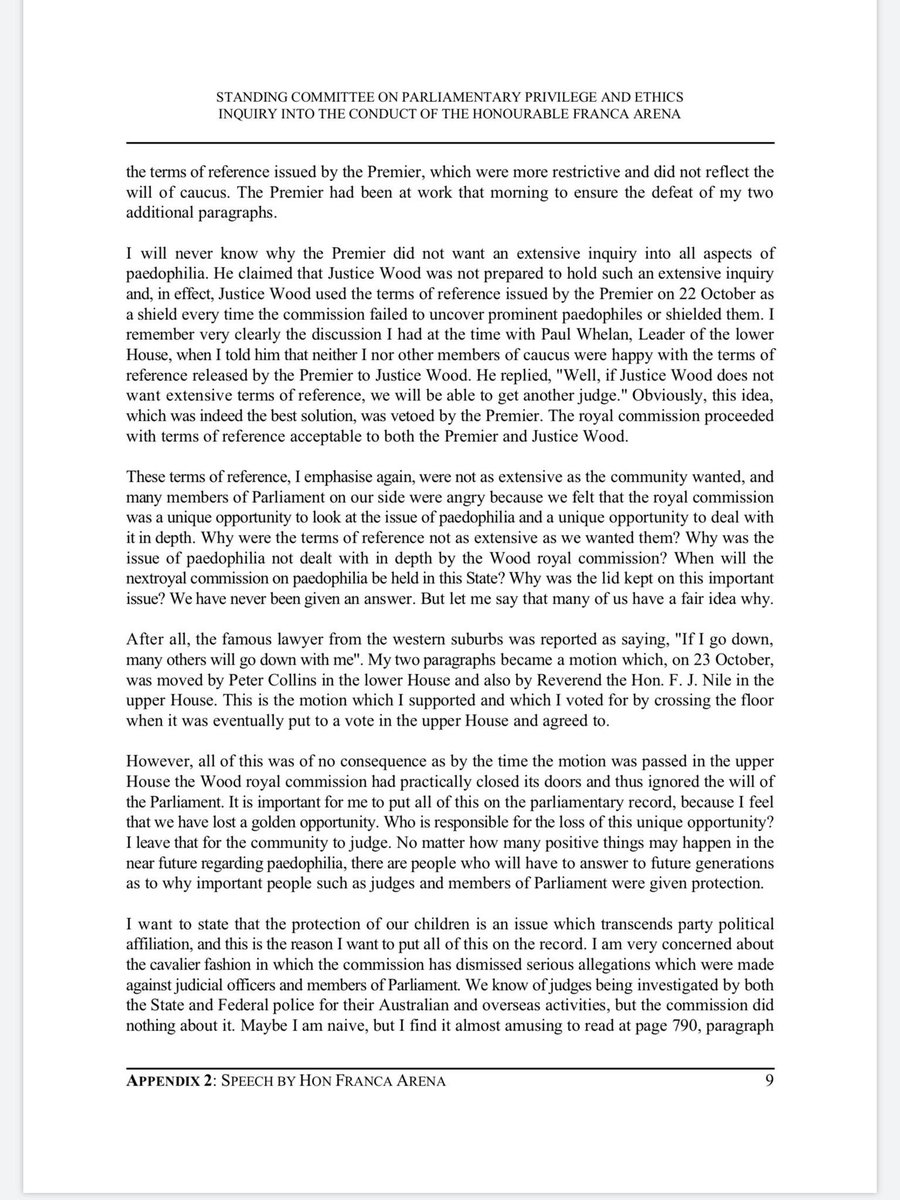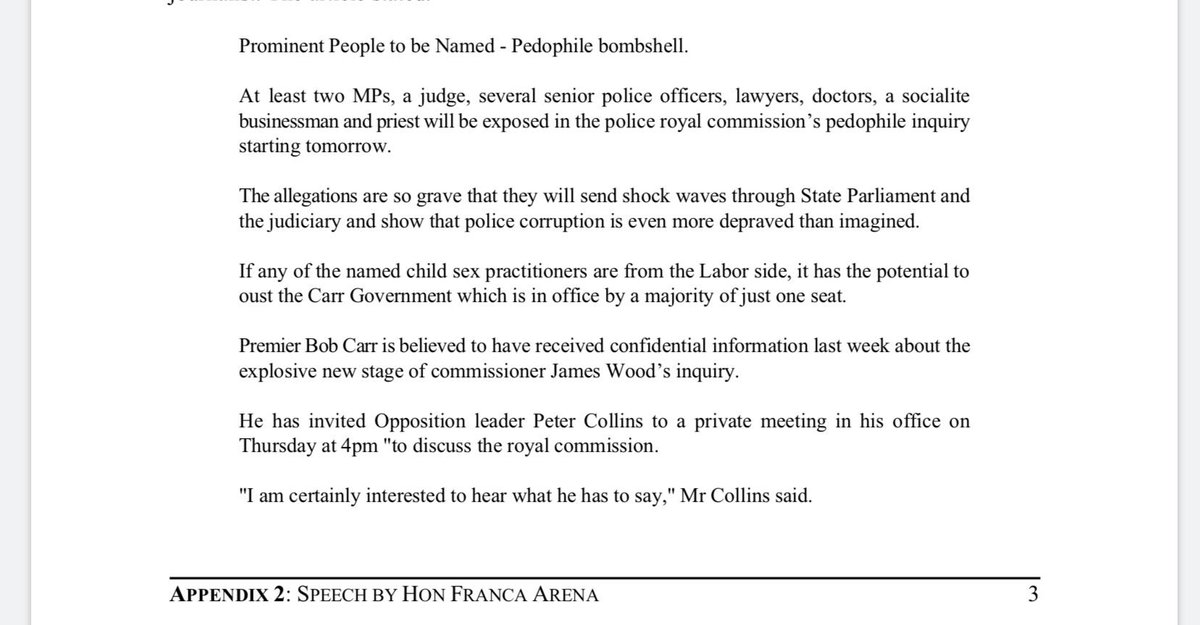 62) Katherine Keating lives an opulent lifestyle in New York despite not having worked for most of the last decade.
63) Katherine Keating volunteered for many Board positions in large companies and international organisations which had access to the logistical movements of children. She had few qualifications pertinent to such positions.
64) Katherine Keating was a Board Member with the "International Crisis Group". https://www.crisisgroup.org/who-we-are/board …
The Board of Trustee Members for ICG include the Deep State elites Alexander Downer and George Soros.
https://www.crisisgroup.org/who-we-are/board
65) Katherine Keating worked for the Berggruen's 21st Century Group: Nicolas Berggruen, Billionaire Investor, was on the Epstein Island manifest.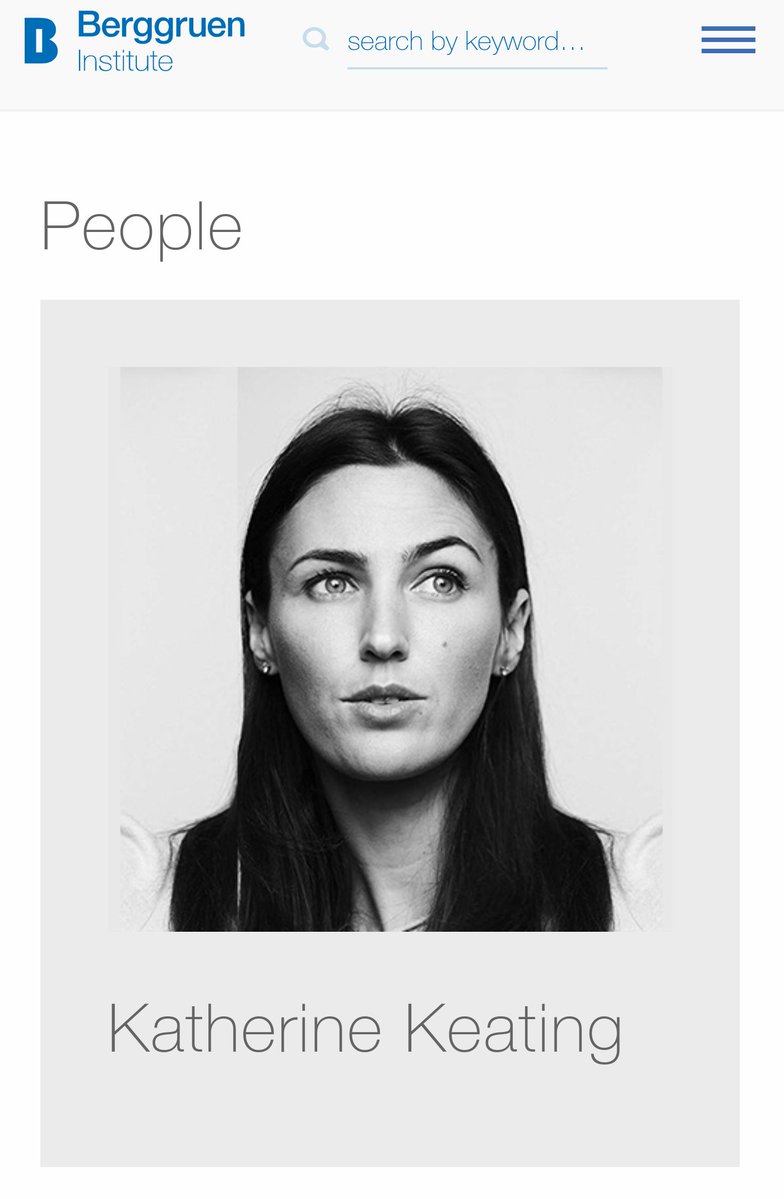 66) Katherine Keating now works for the Maverick Agency in Los Angeles.
They identify young talent in the entertainment industry.

Below Katherine is talking about her father and getting young people sold on the Deep State policies of George Soros by using celebrities.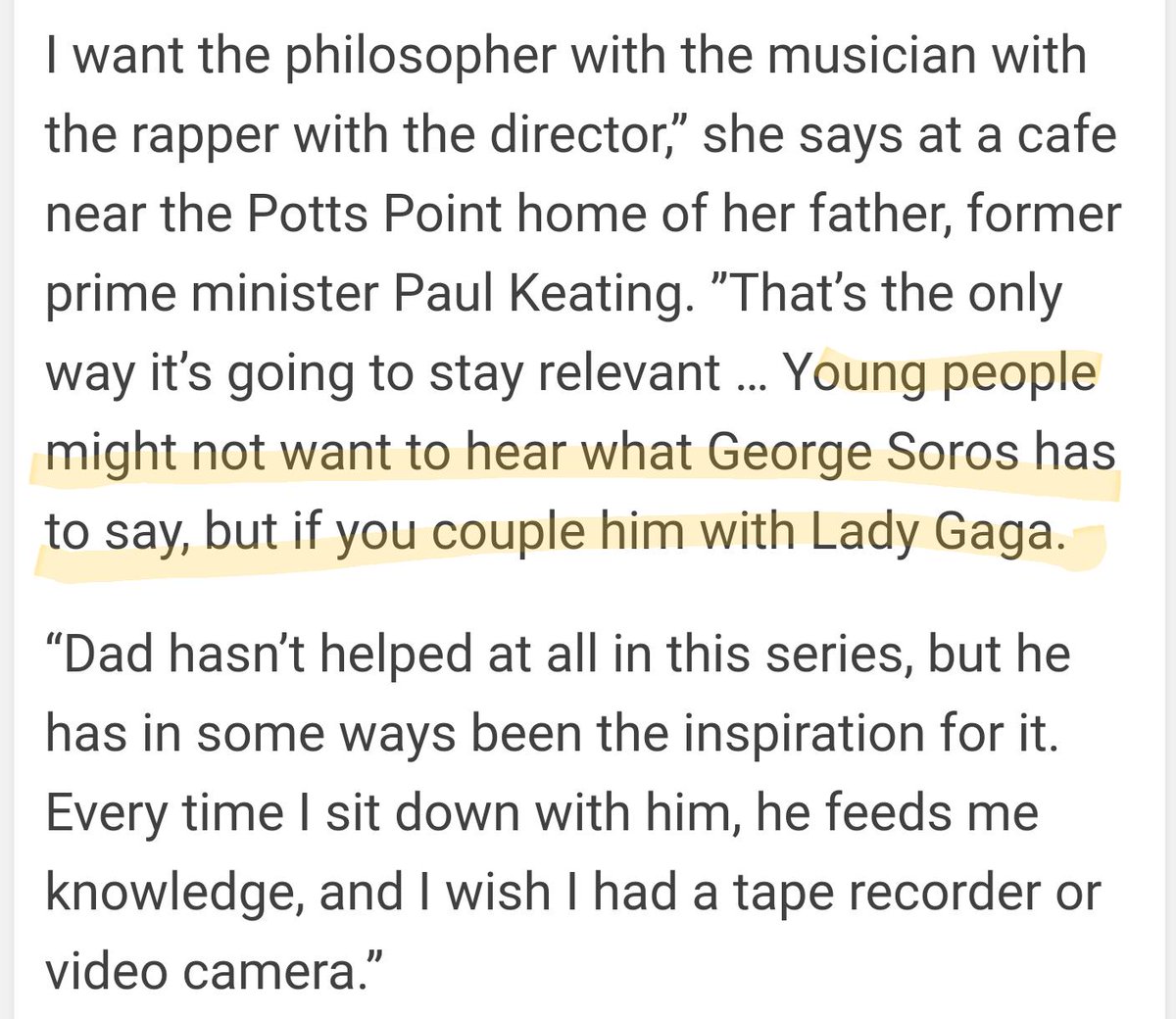 67) Katherine Keating is involved with Founders Forum in the UK-@Founders_Forum
The goal of FF is to "champion entrepreneurs at every stage of their journey".
Nicole Junkermann, who is associated with Epstein likely via Mossad/CIA is named as a member of FF, along with Katherine.
68) Maybe Founders Forum Is Clowning around?

69) There are secret societies in Australia which have familial linage.
No insinuations are intended or suggested.
70) Oddly, Paul Keating has refused to speak to the MSM following revelations of his daughters link to Epstein's paedophile mansion in New York.
Paul has always been a media whore who has loved publicity.
Two days ago Paul hid his face and ran away when approached by Sky News.
71) Katherine Keating has refused to comment on her recent notoriety.
PR 101 would suggest it appropriate to get ahead of the story.
72) Paul Keating's youngest daughter, Alexandra, has simply responded with, "I am not Katherine", when questioned by the media.
Hardly a supportive statement.
She has reportedly fled her home.
73) Katherine Keating has deleted her Instagram Account.
I wonder if she is bleachbiting and hammering too?
74) I had hoped the Keating Clan would be fully transparent and answer all questions expeditiously given the potential involvement of children…..

Yeah right mate.
/End
Make Australia Great Again,
Dr Russell McGregor
@killaudeepstate
WWG1WGA