27 Dec

Post – 27th December 2018

Post – 27th December 2018

Forget the modesty – I reckon I got a World First

Could be wrong and happy to be corrected, but after perusal of Patriotic sites, I reckon I called Arrests before anyone else on the planet. I Called it yesterday just prior to midnight on Boxing Day AEST.

Look, it's a moot point because it means nothing, and the US Military knew about it way before me – cause they were actually doing it! But hey, I'll take it until someone is found that made the definitive Call before me
I did of course have a significant advantage, and that is that it all went down when the US was asleep.
Anyways, here is the proof: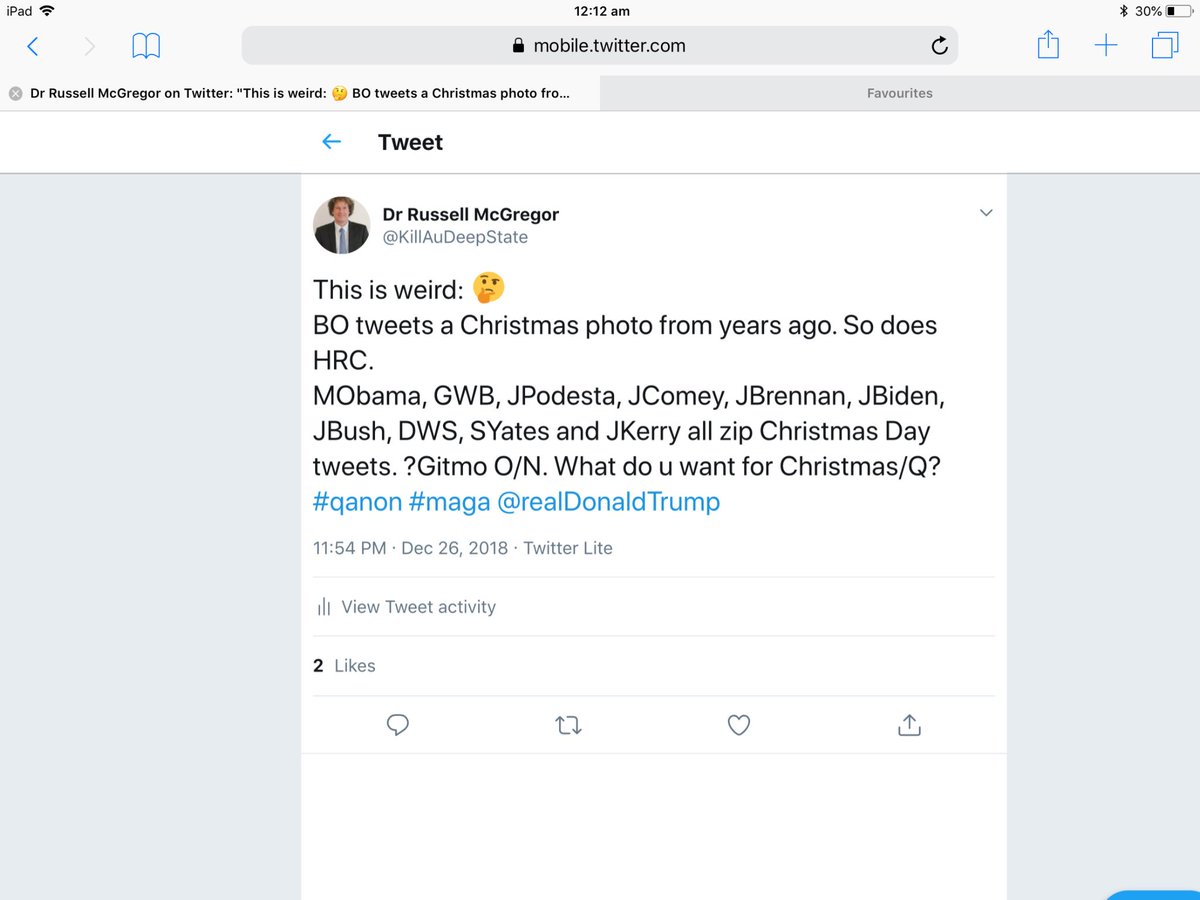 and the definitive statement: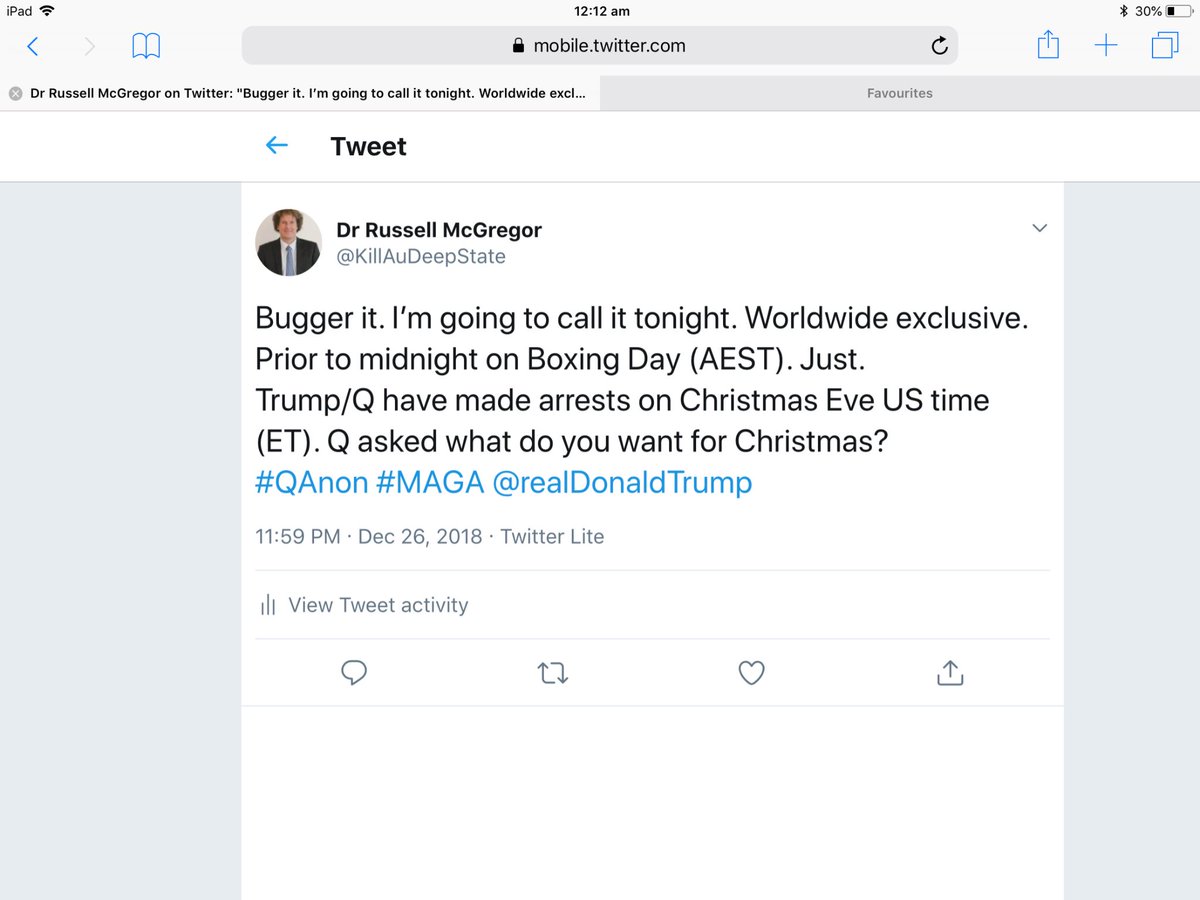 So where is the evidence that the greatest Political event, perhaps ever, is now on?
The Storm is upon us
Now we all know that POTUS will make the statement that "The Storm is upon us" pretty much as final confirmation of arrests. However Mad Dog Mattis said "Storm clouds loom" the other day.
General Mattis is clearly a Patriot and a key component of the Alliance. His resignation letter was perfect trolling which the MSM grabbed. He was suddenly their new hero. Problem; when POTUS is away, General Mattis is in charge, not the VPOTUS. You shall see why this is important during this post.
The arrests simply HAD to happen prior to the new House sitting on 3rd January and they had to happen legally when the House was NOT in session. Can't grab them from their seats. It had to happen now.
So what swayed me to make The Call. Mathematically there were too many Cabal members who had not tweeted Merry Christmas, or had obviously had their accounts taken over by the NSA in hilarious fashion, and are/were entirely inactive.
The arrests had to be done stealthily, quietly, and with no suspicion. This was to avoid bloodshed and protect civilians. Christmas was always going to be the ideal time. The Cabal would have likely been drunk  and ready for the taking.
Let's look at the coincidences
POTUS suddenly flies on AF1 to Iraq to see the Troops. This needs to be planned weeks in advance for safety. Now we all know from Q that arrests will happen when POTUS is overseas and at arms length for optics. This is important so he is not attacked and also can not be implicated in the decisions.
Mad Dog brought his resignation forward to 1st January very suddenly. This coincides with the Executive Order for the initiation of Military Tribunals. The Cabal were off-guard. Thus he can authorise arrests and then rack off so Patrick Shanahan can deal with it. The MSM can't argue cause Mattis was their guy. Shanahan can't be held responsible too. Perfect.
POTUS continues to fly around. He is in Germany as we speak. Well away from the action.
The Q Clock clearly points to arrests.
We are at D5. The 10 days of darkness started on 21st December 2018 when the Government was shutdown. Arrests actually occurred on Day 5! Shutdown ends when Tribunals start.
General Flynn changed his twitter handle to a shiny bright light. Dark to Light.
Q asked us what we want for Christmas? Arrests!
When you are strong appear weak – Sun Tzu.
George Washington crossed the Delaware at Christmas.
Barack Obama used an old photo to bid Merry Christmas on twitter. Same with HRC. Michelle (Michael) hasn't posted for a week. They were not corrected. NSA has taken the passwords.
Pelosi and Schumer posted the exact same tweets word for word. Obviously controlled accounts and funny as.
GWB has his account privatised/taken offline.
John Podesta, James Comey, John Brennan, Joe Biden, Jeb Bush, Debbie Washerman Schultz, Sally Yates, John Kerry and Loretta Lynch have posted no Christmas message – a fatal Political mistake in America and without precedence.
It all doesn't add up and that's why I Called Arrests. They are in Gitmo, which has unexplainably been radically expanded. Haven't changed my mind in the twenty hours since. They had to be arrested at once and without fanfare.
They were waiting for FISA to come first. Checkmate.
History.
Good vs Evil.
Good winning.
Make Australia Great Again,
Dr Russell McGregor
WWG1WGA
@killaudeepstate