26 Nov

Post – 26th November 2018 – C

Post – 26th November 2018 – C

The Liberal Party

Sadly the side of Politics which should have naturally supported the Alliance against the Deep State here in Australia, is actually just the same as Labour and the Greens. We have a UniParty.

As mentioned previously, I wrote repeatedly nine months ago to my Constituent State and Federal (Liberal) Members about the AUS/UK Government spying on candidate and then subsequently President Trump via the FVEY Networks. At a later date I shall put up the email trains. One Politician refused to answer the questions posed point blank and the other finally, after multiple emails, and physically visiting their office gave an acknowledgement of email receipt. He however has not replied to date.

The questions asked who was involved in spying and who made the order. Similarly questions were asked about Alexander Downer's potential involvement in the clearly fraudulent Steele Dossier as per Q and whether any audit had ben made of the Australian taxpayer donations to the Clinton Foundation etc. Copious quantities of material were presented with regard to Q. The attached letter below from Robert Hannigan (GCHQ) to Boris Johnson (the equivalent of our Foreign Minister) was also attached. It is yet to be debunked on the Chan Boards. The obvious question is whether Obama really did ask the UK to spy on Trump through FVEY. A thermonuclear letter if ever there was one, and one which should have been mandatory, for any Australian Politician to investigate FULSOME, as AUS is a party to FVEY and therefore complicit.

Politician's are as Politician's do.

BTW – Hannigan resigned 10 days after Trump was elected. Wonder why? My guess is that he has suddenly gone on a permanent holiday to somewhere in the Amazon Basin.

I shall not detail my involvement with the Health Minister regarding Q and my loss of career/bankruptcy at this time, however I will in the future. I will also detail the Press involvement at that time.

The next Blog Post is my most important by a considerable distance to date. Please consider it carefully.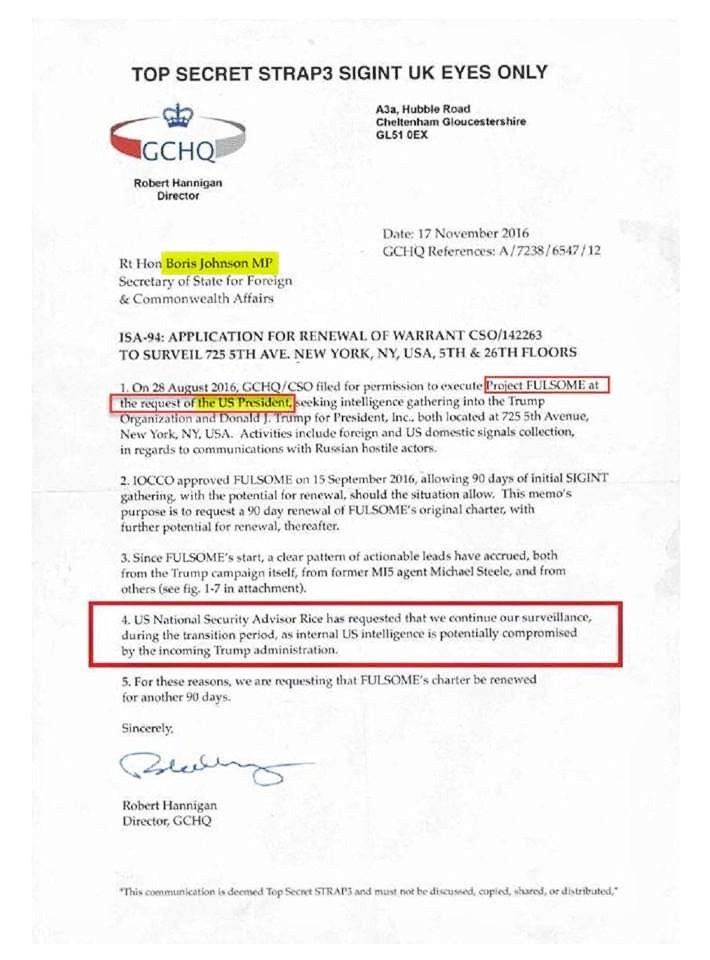 Continued in Part D: